The Savory Collagen Special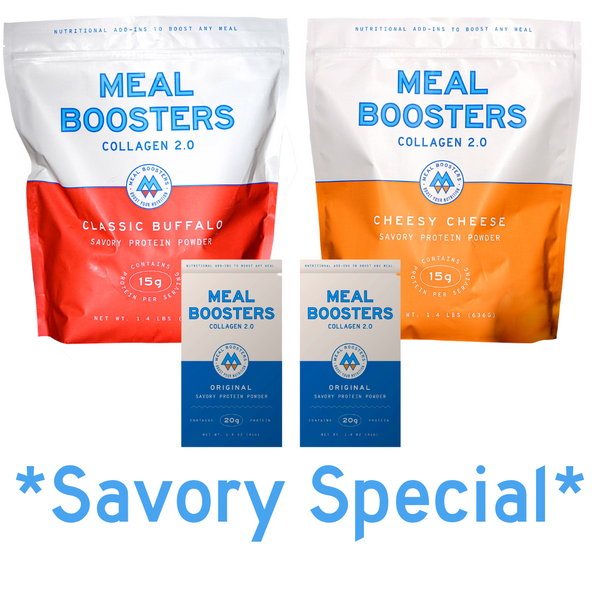 This special gives you a chance to get ahold of our unique savory collagen 2.0 at a discounted price! This comes with 1 x 20-Serving bag of Cheesy Cheese, 1 x 20-Serving bag of Classic Buffalo, and 2 x individual servings of our unflavored. Enjoy it like no other, because there is no other!
How to Use: Mix in 1 serving (1 Individual Packet = 1 Serving) of Collagen 2.0 into your food while cooking it. Mix until evenly distributed and ENJOY!!
Effortlessly Enjoy it with: Eggs, Rice/Grains, Stir-fry, Meat Seasoning, Sauces, Cottage Cheese (Make Hot Queso!), Coffee, Tea, and anything else you prepare!
-There's 15-20 grams of Protein per serving!
-Unflavored and Cheesy Cheese are Gluten Free
-Cheesy Cheese is made with REAL CHEESE!
-Benefits of Collagen 2.0 for Men & Women: Increase Hair, Skin, & Nail Health, Build/Repair Lean Muscle Tissue, Improve Gut Health, Combat Pesticide in the Body.
Great product. I thought it would taste "gritty" like some products, but it tastes just like cheese. I'd definitely recommend and buy it again.
I have not received it yet. It has never been delivered.
The cheese powder taste really good. I stated putting it on everything
Super tasty! My favorite purchase of the year!
The Sampler
Added the Buffalo to chicken and rice and it was amazing!
YUMMY YUM YUM!!
So easy to jazz up my low carb elbow macaroni - You just sprinkle it on whatever you want to "make cheesy" & it's a great healthy alternative to other powdered cheeses.
20-Serving Bag of Collagen 2.0 (3 Flavor Options)
Yummy yummy yummy, super easy to work into other recipes and good amount of protein. Will buy again!