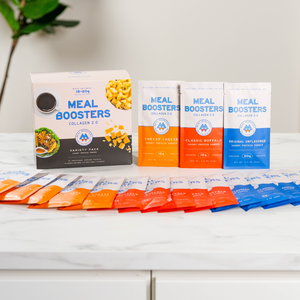 Our Patent-Pending Savory Protein Powder!
We offer easier ways for you to get your ideal nutrition with our clean, easily-digestible, patent-pending savory protein powder. Mix Meal Boosters straight into your favorite food or drinks for a variety of health benefits.
I hit my protein goals everyday now! The GAINZ are real!!
Aaron Mackenzie
My kids love the cheesy cheese! Mac and Cheese lets them hit their essential protein targets!
Keri Tait
I use Collagen 2.0 with every meal! The Classic Buffalo is my favorite!!!
Michael Pisani
Broooo, the classic buffalo is ridiculous on rice! Protein with my rice?? OMG
Vanessa H.
The easiest protein hack ever is using coffee boosters in my coffee. My Doctor recommended it to me! Thank you!!!!
Denise
Need more info on Meal Boosters Collagen 2.0?