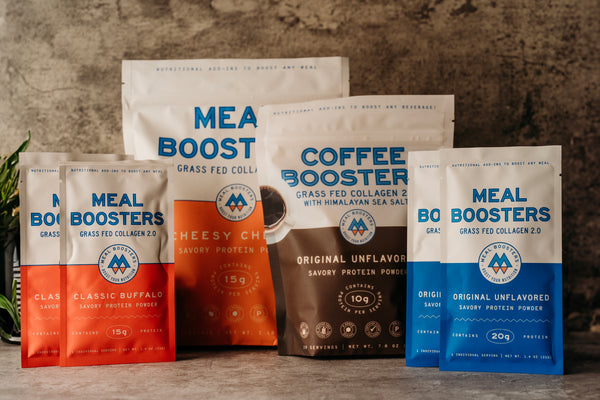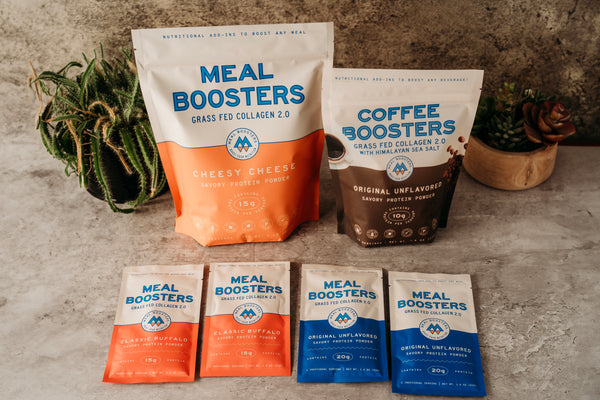 You have spoken, and we have listened! Here are the Meal Boosters top sellers bundled up nicely to save you some cash!
This bundle comes with:

1x 20-Serving Bag of Coffee Boosters
1x 20-Serving Bag of Cheesy Cheese
2x Individual Servings of Classic Buffalo
2x Individual Servings of Unflavored
Free Shipping!
How to Use: Mix in 1 serving (1 Individual Packet = 1 Serving) of Collagen 2.0 into your food while cooking it. Mix until evenly distributed and ENJOY!!
Coffee Boosters simply goes into your coffee, tea, or hot chocolate. Goes with any style as long as it's hot!
Effortlessly Enjoy it with: Eggs, Rice/Grains, Stir-fry, Meat Seasoning, Sauces, Cottage Cheese (Make Hot Queso!), Coffee, Tea, and anything else you prepare!
-There's 15-20 grams of Protein per serving!
-Unflavored and Cheesy Cheese are Gluten Free
-Cheesy Cheese is made with REAL CHEESE!
-Benefits of Collagen 2.0 for Men & Women: Increase Hair, Skin, & Nail Health, Build/Repair Lean Muscle Tissue, Improve Gut Health, Combat Pesticide in the Body.
Great product
Love that it mixes so well and tastes great!
Love the cheese !!!
I add it to my pizza sauce!!! Love it helps me hot my protein for the day
Buy Now
You've helped change my life to the better.
Have just tried two of the three, but so far super happy.
I have tried the flavorless and cheese flavored boosters from this bundle. They're great so far, I'm happy and will be purchasing again.
Great products
Great products and easy to use!! The unflavored goes in my coffee every morning and our current meal prep for lunch is all about that cheesy cheese on Barilla pasta with ground turkey mixed with taco seasoning. Highly recommend!
Excellent product!
Meal Boosters is an ingenious way to add protein to your diet - the unflavored is truly unflavored and dissolves into whatever food you mix it with! I do appreciate the added "boost" I get to my energies and feel good when I use Meal Boosters. Truly an innovative, fun and easy way to better health!